SimLab: The Future of the Automotive Industry

The automotive presence in Silicon Valley significantly ramped up since the region was delightfully dubbed the "new Detroit" a few years ago. Call it what you want, Silicon Valley is reshaping the automotive industry exponentially with the integration of modern technology in a wide range of areas like automation and safety, connectivity, propulsion, User Experience, and HMI. Almost every big player in the automotive field has or had a finger in the proverbial R&D pie in the region.


One of the most crucial and innovative players in this new tech age is the driving simulator. It cuts costs, decreases liability, and increases control in testing environments. It takes the testing engineer out of the vehicle interacting with real traffic and weather conditions, which can be hazardous for both the driver and the vehicle, and places both in a secure and manageable environment. The driving simulator has long since moved from being perceived as a popular arcade game you waste quarters on to being a very real and current method of testing. 


Introducing the Driving Simulator

Simply put, a simulator is a software or hardware that mimics real-life scenarios to provide the required outcome for research without causing any danger. Most driving simulators have a screen and steering wheel, allowing you to move the "vehicle" according to what you see depicted on the screen in front of you. Typically, weather patterns, obstacles (potholes, traffic jams), and other traffic participants (cars, bikes, trucks, pedestrians) are included in the simulation to create a more life-like experience to produce more immersive results. 
As some of us know, starting your own company in this competitive climate, especially in the automotive field, is very cumbersome and sometimes, downright impossible. The small start-up with stars in their eyes and large holes in their pockets and the larger, more established company who wants to cut costs but not at the expense of innovation, need an out-of-the-box approach. This is where fka SV steps in. With a combination of university-style research and industry-level agility, we offer Silicon Valley's only publicly accessible driving simulator to take automotive research and development to the next level.

Ours is Different

With a real car as its central part and a 220-degree multi-screen view (3 rear projections, customizable screens, and compliant with 
NHTSA
guideline testing), our simulator truly creates an immersive virtual environment for the driver. The powerful software 
Virtual Test Drive 
by Vires allows the realization of almost every conceivable traffic situation but also makes the integration of customer technology into the control loop possible. This enables fka SV to design, test, and assess a wide range of vehicle systems in an early stage of development within the desired environments. 
With complete control over the "external" factors like weather and traffic including the vehicle behavior, we can test systems or functions that are not yet functional or ready for the road, which goes beyond the commonly known, wizard of oz technique, (enabling unimplemented technology to be evaluated by using a human to simulate the response of a system). For example, we can test Automated Driving functions, without any of the defined vehicle hardware (such as the sensor setup), in participant studies or showcase it to stakeholders and investors. This allows our customers to get feedback before the product is finished.


Fka currently has simulators in both Silicon Valley in the US and in our headquarters in Aachen. Due to the short distance between the headquarters and the borders of the Netherlands, Belgium, Luxembourg, and France, we can offer studies with subjects from different European countries and the US. In addition, we offer combined studies (driving simulator and test track) due to the partnership and the proximity of our headquarter to the newly built test track, ATC (Aldenhoven Testing Center), in Aldenhoven, Germany. The fka SV SimLab (Simulator Lab) offers a multitude of services from driving simulator time, up to full experiments for start-ups, OEMs, automotive suppliers, as well as automotive interest companies. These services can be extended by combined studies in Germany, giving you the power of testing with several simulators of different fidelity simultaneously.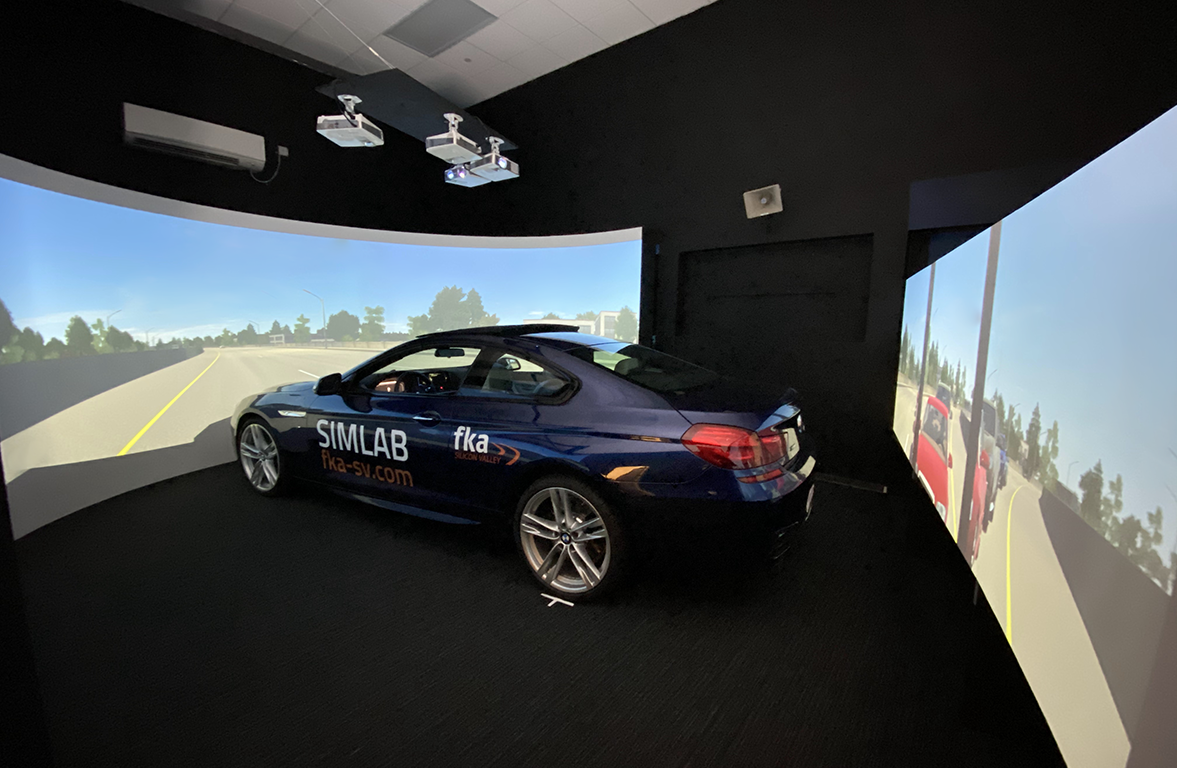 Specs
The Look and Feel

As mentioned, our Silicon Valley 
simulator
 is a complete vehicle, which creates a stronger immersion. The vehicle interior is fully functional with two programmable displays (center console and instrument cluster), additionally, the Interior can be customized to fit additional equipment or displays. Our static simulator (no simulated motion) is surrounded by a 220-degree, curved frontal projection, which spans the peripheral vision. A three-way split rear projection for true perspective in mirrors is available while implementing 
Virtual Test Drive
 by Vires as the simulation engine. Also, we offer the ability to actively influence the surrounding traffic behavior as well as weather conditions, time of day, different style roads in different countries, and any type of track, etc.
Controls
The simulator's vehicle controls range from a force feedback steering wheel (capturing the road resistance), a true-feel brake pedal (mimicking the behavior of a hydraulically-operated brake pedal), and an accelerator with "kick down" (gas-by-wire, completely digital accelerator pedal) and lastly, all features can be swapped out to accommodate your hardware or customized to your needs. This includes but is not limited to any interior button to alter the vehicle behavior or the displayed contents on the screens, indicators, lights, mirror controls, and electric seat controls all work like it would a real car. 
Performance indicators and measurable parameters 
We measure any button press, driver input, vehicle simulation parameter (especially the position in the virtual environment and distances to lane markings) as well as any surrounding vehicle positions and speeds. This also includes lane exceedances (when a vehicle leaves its designated lane without purpose), the ego vehicle speed, time headway, steering angle, and pedal positions (gas and brake), and lastly custom metrics to fit your special purposes. Additional measurable parameters are possible, such as gaze tracking (head-mounted or dashboard-mounted), and the Detection Response Task (DRT, a frequently used method in measuring mental workload), both tactile and visible. Further measures are taken through questionnaires administered by experienced study executors (e.g. usefulness of system, usability, frustration, NASA TLX). 
Testing Guidelines
In order to prioritize road traffic safety, the automotive industry set voluntary, sometimes country-specific, guidelines. Supporting industry leaders, fka SV has developed deep expertise in guideline testing for series production systems (e.g. ADAS, infotainment) and aftermarket devices. Many guidelines have fixed criteria and complex requirements, having an experienced partner will simplify your validation and provide the highest quality results. The methods we have experience with range from testing against NHTSA guidelines (e.g. NHTSA guideline for visual-manual devices), state of the art automotive best practices, and voluntary guidelines, David Strayer's methods (Strayer is a researcher at the University of UTAH that frequently tests for AAA and NHTSA or DOT) and benchmarking against competitor systems for e.g. usefulness, usability, acceptance, frustration.


Moveable & Adjustable – Just How You Want it
Our first-rate lab is fully customizable to your needs, however, if you require to test in your own lab, we can offer support in the design, build and set up of a mobile lab. Our support includes the following training of your staff, building custom software and hardware solutions for your specific needs, building concepts, and trade show setups, including custom concepts and hardware. Examples of such a service can be seen from three years at CES: ZF's concept 2020, ZF's Safe Human Interaction Cockpit, BCS's Surf'n'Curve including custom concepts and hardware like the self-driving car exhibit at the Living Computer Museum in Seattle.